International designers have consistently wondered, "How do I expand my business into foreign markets and reach overseas audiences?" These questions plague companies who are set on brand expansion, but who are conscious of the risks involved with charting new territory.
Will the collection translate in a different cultural landscape? How do I access the right audience for my brand? And will I make a return on my investment? Amidst turbulent economies and unpredictable forecasts, a few daring designers have made the trip across the Atlantic.
Georges Hobeika, Saiid Kobeisy, Sergio Hudson, Tony Ward, Kevan Hall, Phuong My, Gemy Maalouf, and Gatti Noli by Marwan are some designers who have called New York City home during Market Week. Their drive to become international brands involves international teams, and a skillful navigation of social networks and foreign economies. At The Novus Forum, New York's luxury boutique trade show, these designers presented their womenswear collections to a niche audience of US retail buyers, social media influencers, and press including Women's Wear Daily. What resulted was visibility to specialty boutiques such as Elizabeth Anthony, Julian Gold, District 5, and Tootsies, as well as department stores like Neiman Marcus. But for any business that is seeking new markets, what are some key strategies to making a successful introduction?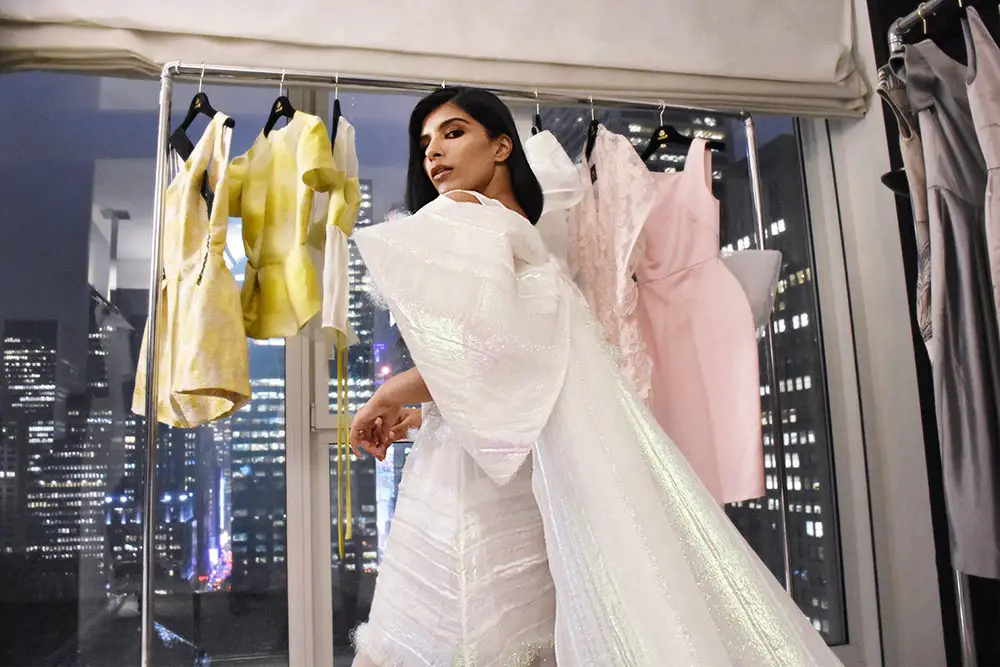 Trust. In an age where online scams are prevalent, the public is generally less trusting than they were in previous eras. Because of this barrier, it is important for designers and sales reps to build trust by connecting to retailers in-person. A smile and cordial rapport go a long way, especially when a buyer is deciding whether or not to write a $25,000+ order. Post-pandemic, buyers are insistent on experiencing the quality of fabrics and seeing garments in a physical space. This in-person viewing synthesizes a retail setting and builds confidence that a collection can be merchandised within their own store. Lastly, networks establish trust and credibility. Participating in an elevated trade show or being connected to a reputable agent has the ability to instantly establish the viability of a foreign brand. Buyers must be confident that new brands have the business infrastructure in place to fulfill orders with on-time deliveries.
Accessibility. It pays to be in the right place at the right time. Within the short fleeting days of New York Market Week, buyers are previewing dozens of collections with few breaks in between. Time is a luxury, so it is important for brands to be conveniently located in the midst of buyer traffic. Context is also important to consider when presenting a brand to a new audience. Glaring fluorescent lights and temporary drywall dividers are not ideal frames for a luxury collection. So, while it is important to be conveniently located, corporate trade shows may not provide the luxurious shopping experience that high-end collections require. Finding the right balance between accessibility and elevated, semi-private viewing is key. Evan Curtis, Creative Director of The Novus Forum, describes the importance of contextual exhibition design, where the reception of collections begins at the door.
Brand positioning. "Knowing your customer" is what sustains boutique businesses. Regional buyers are responsible for providing new, yet familiar, merchandise each season to help build the wardrobes of their clients. 21% of The Novus Forum's attending buyers have been in business since 1960, which represents six decades of customer service and at least two generations of shoppers. These buyers know about the personal lives of their customers—which includes their social calendar and events like weddings, bar and bat mitzvahs, and other formal occasions. It's this intimate relationship that makes retailers so important to their communities. Although buyers have sought to diversify their product offerings by providing space to minority designers, retailing a new brand requires the merchandise to seamlessly build upon the past purchases of clients. Jeanine Elias, VP of Business Development at The Novus Forum and former President of Derek Lam International, evaluates current store offerings, in order to position new brands in a complimentary way for retail integration.
To successfully increase distribution channels, there are a few requirements: trust, accessibility, and brand positioning. The stakes are high for expansion into foreign markets, but the reward, when done correctly, far exceeds the cost. On the other side is a global community, excited new customers, further travel opportunities, and greater brand recognition.
About The Novus Forum
The Novus Forum is a luxury fashion trade show based in New York City, USA. The organization was founded in 2017 with a mission to connect international networks of designers, retail buyers, and diverse fashion professionals. The Novus Forum supports the expansion of emerging and established brands, while providing year-round business development services that prepare companies for successful Market Week and Fashion Week presentations. Each season, The Novus Forum hosts an exclusive evening for multimedia content creation called Novus Chiffonier. The team is led by co-founder Evan Curtis, who brings over a decade of experience working as a creative director and interdisciplinary marketing strategist. The organization has supported the growth of luxury brands including Georges Hobeika, Sergio Hudson, Tony Ward, Saiid Kobeisy, Phuong My, Kevan Hall, and Gemy Maalouf. The Novus Forum has been featured by CFDA (Council of Fashion Designers of America), Women's Wear Daily, Fashion United, and California Apparel News.
##
Learn More